I seem to be going in for tongue-twister titles lately – but don't blame me for this one! I've been tagged in a blog hop that was started by Susie Orman Schnall, author of On Grace (US Link, UK Link).
It's the 40th Birthday Swag Bag Blog Hop, and the premise is that the blogger is going to a friend's fortieth birthday bash in an exotic island resort. (I should be so lucky!) The challenge is to list a few of your favourite things that you'd like to add to the swag bag for everyone in the group.
You can read the original post HERE. I was tagged by my editor Alison Jack, who is also an author.She recently presented me with my own swag bag – a neatly branded bag containing a lovely hardback copy of her own novel, Dory's Avengers, which is now nearing the top of the to-read pile by my bed. You can read her post HERE.
Inevitably in this blog hop challenge, one of the items is a book! Read on to see what I've chosen…
Book
My favourite book of all time is Through the Looking Glass by Lewis Carroll, but somehow this doesn't seem right for a 40th birthday present, nor for reading on a tropical island. I think I'd have to go instead for an uplifting, jolly book that I've read recently that struck me as a great beach read: One Night at the Jacaranda by Carol Cooper. Not entirely frivolous, as there are also serious themes in there, but it's mostly about making the most of life and starting over, following many characters after a night of speed-dating. A great wake-up call for anyone who hits 40 with the feeling that life has passed them by. This book will encourage them to see that it really hasn't. (As I can also assure you myself, being on the upper side of 40.) The ebook is just 99p on Amazon UK for the month of June, but I'd splash out and buy the paperback – and also get it signed, as it's written by a friend of mine!
Beauty product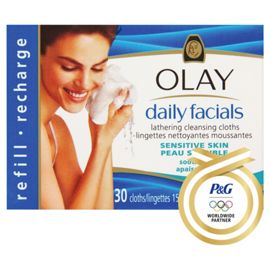 My favourite beauty product happens to be one that would be perfect for a tropical island trip – those little single-use facial washcloths made by the Oil of Olay people. It's a really handy travel product (and good at home too), very refreshing and feels rejuvenating at least, although it doesn't actually smell of Oil of Olay and it isn't pale pink either, unlike the classic Oil of Ulay (as it used to be called) that I associate with my mum. (Read more about that in "The Scent of a Mummy".)
Snack food
Well, that would have to be chocolate. In a cool bag so it doesn't melt in the tropics. Lindt Lindor balls, the red ones – no contest.
Music album
Three contendors here – boxed sets of Mike Oldfield, Penguin Cafe Orchestra, or Buena Vista Social Club – all music that I can happily drift away to any time, whatever I'm doing. They're all largely without words, or at least without words in a language that I can understand. Perfect relaxation music. Not sure whether Cuba counts as tropical, but I guess the Cuban Buena Vista Social Club would be the most appropriate for the setting.
My choice of any extra treat
As an old-fashioned girl, and a writer, it may come as no surprise that my extra treat would be a beautiful journal of some sort, to make the point that your 40th birthday is the first day of the rest of your life, and that the adventures are just beginning. Maybe a five-year diary, or an undated journal with a beautiful cover. I particularly like my Tardis notebook – I've had to buy several of those to give to Whovian friends, and I also use it as a prop when I'm public speaking about social media. ("Think of Twitter as your Tardis, enabling you to reach anyone, anywhere…")
Passing it on
With my virtual gifts stashed inside, the blog hop now passes on to two more bloggers for their suggestions, from opposite sides of the globe!
First up in England, like me, is Sarah Dale, an occupational psychologist.  Given her career, the bag will be in safe hands with Sarah! She has also written a couple of thoughtful self-help books, one of which, Bolder and Wiser, celebrates the benefits that come with growing older. Aimed at 50+, it's a book to inspire any woman reaching a landmark birthday, whether 40, 50, 60 or beyond. Sarah lives and writes in Nottingham, where she's just been appointed head of PR and marketing for the city's Festival of Words this autumn, and I'm looking forward to hearing more about that.
Then the virtual swag bag will zip round the globe to Australia to Rebecca Lang, an editor and author, whose short story Army Dreamers I really enjoyed reading earlier this year – an evocative, eerie tale set in the outback. Rebecca is based in Sydney. I've never met either Sarah or Rebecca in person, but have got to know them through the fabulous Alliance of Independent Authors, which brings together self-publishing writers with high standards all around the globe.
Their posts should go live on Monday 16th June, but you can get to know them in the meantime just by clicking on their names here, which will take you straight to their blogs.
Thanks again to Alison Jack for tagging me – her post is of course already up, so you can read that one now too!
What would YOUR choice be for the 40th Birthday Swag Bag? Do share, via the comments! Or contact any bloggers further down the chain if you'd like to take a turn and be tagged too!